Sileo: Tales of a New Dawn
April Sileo Builds Now Available!
---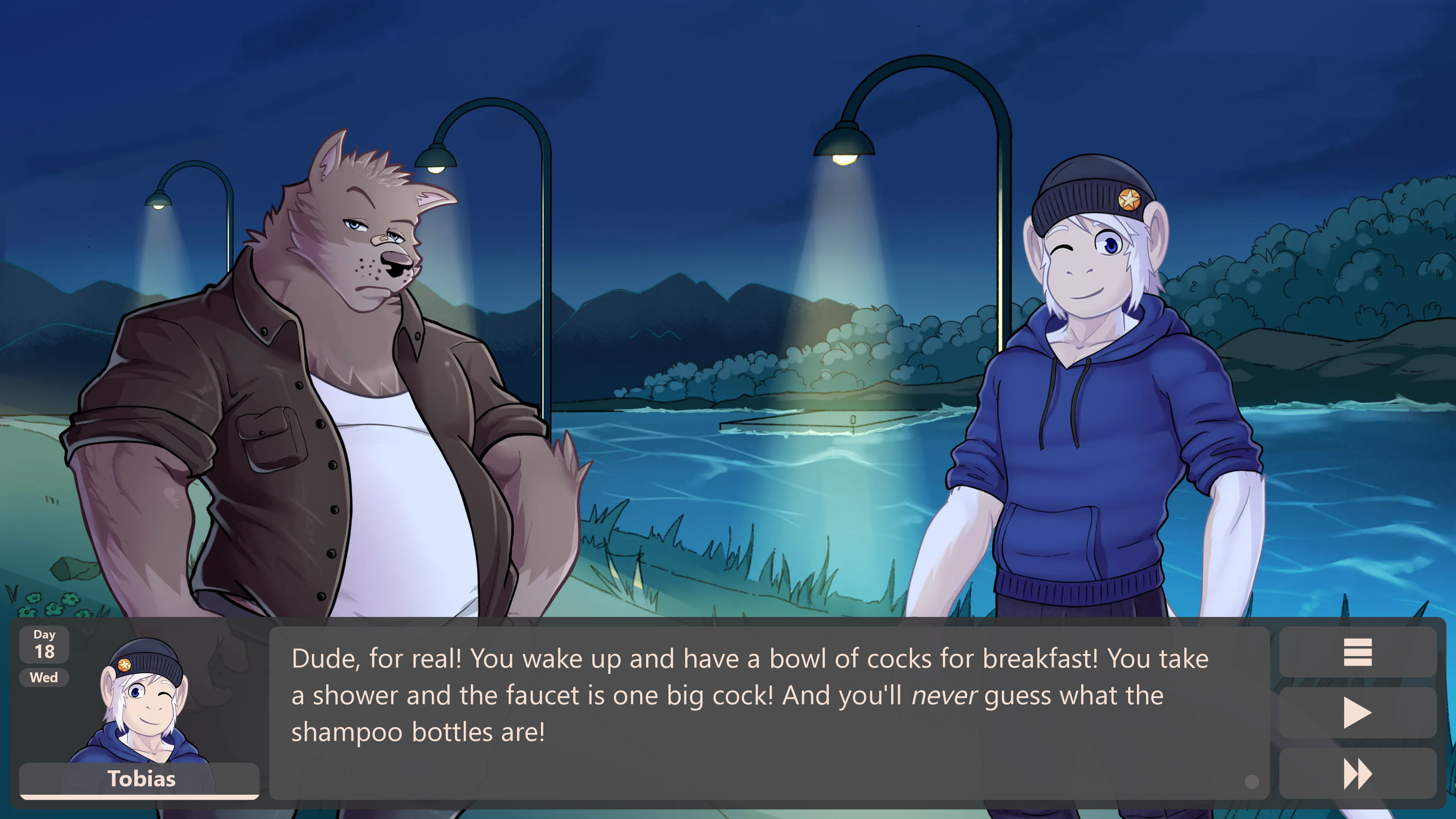 Psst. Hey. You kids wanna buy some crac- I-I mean a new Sileo update? That's right, you know what time it is, and apologies it's a little later than we usually go for, our testing team is bigger than ever and that means they keep finding shit to fix! The good news is we're all fixed out, and that means you can finally sink your teeth into the new update!
So, what's new?
At long last, our new user interface is ready for the world at large! The new UI offers a better experience on touchscreen devices while working well across a wide range of platforms! It has a number of really cool new features too, like how the buttons and other components are skinned to match the speakers color, and how there's a portrait showing the current speaker. Most notably, this includes the protagonist! Over 6000 new expressions were added to the existing story to make this possible!
In addition to this, we released a surprise update for our Patrons last month which contained a smallish new chapter in Tai's Route. This chapter is also included with the public 0.41 update, so it's almost like two updates in one... kinda!
Over on Patreon, we've released two new chapters which concludes Day 18 at long last! One of these chapters also introduces Tobias the Macaque! The screenshot above is from that sequence! Remember, if you like what you see here and want more, you can check out our Patreon here!
Another major change in this update is the removal of Analytics, the reasons for which are detailed in the changelog. As of right now, Sileo has zero interaction with the internet. Of course, those external links on the main menu aren't going to take you far without a connection, but you know what I mean!
One more exciting development is progress towards official support for a web-based version of Sileo. Right now it's working great, we just want to spend a bit more time with it to improve how it predicts upcoming assets and streams them in before they're needed. Ren'Py contains a system which should handle this for us, unfortunately, not only is the system not working all that well, it is also completely unresponsive to commands so we can't do a damn thing to address the issue. I'm unsure if this is just how it is or if there's a conflict with Sileo's code somewhere, but I've already begun work on my own system that will work even better than Ren'Py's method for our purposes. How so? Well, Ren'Py's system only predicts images. Our system can predict anything we want it to. The most notable benefit of this is that we can stream audio in as well, ensuring they start when they're supposed to and don't play out of sync with what's on screen.
We expect to launch this web based version later in the month on Patreon. It'll be exclusive to them while it's in beta, rolling out here next month assuming all is good. That beta release will probably be more like mid-month than anytime soon as I've been crunching like crazy these last few days and could use a break before I get stuck in again.
Anyway, enough serious talk! We haven't finished listing what's new yet! This update adds 3 new outfits for Adrian. There's Tai's Clothes, as worn on Day 8, Axel's Clothes, as worn on Day 15/16, and a recolour of his usual jacket, shirt and jeans which we've swapped out as evenly as possible throughout the existing story. The first two aren't seen much/at all outside of the character portrait, but they're in the gallery and are unlocked upon completion of Day 8 and Day 15 respectively.
There's also two new backgrounds! Eric no longer lives in a stock photo nightmare (though his house still looks like one from the outside, that's a work in progress!) and the abandoned house in the woods no longer looks like it was abandoned by us as well!
Aside from that, a lot of fixes and a lot of improvements! Note that we've cleared the compatibility data in this update, saves might restart from recent checkpoints and content may no longer fast forward as if you haven't seen it – there's a setting that you can change which lets you skip regardless, you might want to turn that on! Doing this was necessary to fix a strange bug in 0.40. Sorry!
Anyway, there's plenty of shit to sink your teeth into, and plenty more coming to get excited about! So get downloading and have fun!

Changelog

PATREON: Adds Two New Chapters to Tai's Route (Day 18) and Introduces a New Character: Tobias the Macaque!
PUBLIC: Our Brand New User Interface Debuts + 1 New Chapter In Tai's Route!
Sileo No Longer Uses Analytics
PATREON: Official Support for Ren'Py Web! (To Be Released Later in April)
3x New Outfits for Adrian:

'Axel's Attire': The too-small clothing given to him to wear by Axel's parents on Day 15. We've also made a couple of small adjustments to the overall sequence on Day 15 and Day 16 to give the outfit literally any screen time.
'Tai's Attire': The 'Class of 99' Shirt Tai lends to Adrian on Day 8. Adrian now wears this throughout the entire day where applicable.
Casualclothes 3: A variant of Adrian's usual outfit, featuring a red jacket and black pants which he now wears frequently.

2x New Backgrounds:
Reorganized and Consolidated Game Code. Following the UI update, it was getting rather unwieldy!
A list of fixes and improvements with so much girth it'd make Eric blush!
Clears Ren'Py compatibility data, fixing a strange bug which cause characters to show up in places they shouldn't in the 0.40 release. This may cause some issues with save files, but in our testing, we found compatibility to be very high, though some save files may restart from the beginning of the current chapter.
Woodcrest Woods House - The abandoned building in the woods first visited on Day 4.
Eric's House Interior - The interior of Eric's house, as seen on Day 5.
Files
Sileo v0.47 Public - Windows / Linux
311 MB
Version 4100
Apr 02, 2022
Sileo v0.47 Public - Mac OS
277 MB
Version 4100
Apr 02, 2022
Sileo v0.47 Public - Android
295 MB
Version 4100
Apr 02, 2022
Get Sileo: Tales of a New Dawn